Published on 11/30,2010
Svakodnevno sa uživanjem surfujemo internetom, komuniciramo sa ljudima putem socialnih online mreža, radimo svoj posao od kuće ili iz kancelarije, kupujemo, pa čak i studiramo putem interneta. Dok ceo taj virtuelni svet posmatramo kroz svoj "prozor", ili pregledač (browser), većina nas nije ni svesna da se u pozadini već godinama vodi veliki rat...RAT BROWSERA!
Naime, do pre nekih desetak godina, bilo je sasvim normalno da za pregledanje web sadržaja koristimo prvi browser koji nam padne pod ruku. Kako velika većina nas koristi Windows operativni sistem velike firme Microsoft, prvi browser sa kojim se susrećemo na sveže instaliranom Windowsu je naravno Microsoft Internet Explorer. Dobar razlog da ovaj web pregledač bude neprikosnoven skoro više od dve decenije sa preko 50% udela među korisnicima koji koriste internet. Kako je normalno da i drugi ljudi poput Bila Gejtsa primete veliki potencijal u novonastaloj virtuelnoj mreži, uvek je postojala i konkurencija...Neki od konkurentnih browsera postojali su čak ipre prvog IE. I tu dolazimo do prvog okršaja u ovom dugotrajnom ratu...
Prvi rat browsera dogodio se sredinom 1995-te godine, kada je izašao IE 1.0, kao deo Windowsa 95 Plus. Do tada jedini browser na mreži koja se brzo širila bio je Netscape Navigator. Kada su se ove dve kompanije sa svoja dva velika "ratnika" sukobila na bojnom polju, došlo je do eksplozije novih verzija ovih programa, dodataka poput Java Script-a i CSS-a koji su tada bili poslednje inovacije u web browsingu. Interesantan događaj sledi 1997. godine kada izlazi IE4 (za 2 godine 4 verzije!!!) i razvojni tim Microsofta ostavlja u toku noći veliki logo Internet Explorera na travnjaku svojih kolega u Netscape-u. Ujutru kada su zatekli provokaciju ispred svojih kancelarija, programeri iz Netscape-a su oborili tri metra visoki logo, i na njega posadili svoju maskotu - dinosaurusa koji drzi tablu sa natpisom "Netscape 72 -Microsoft 18"
. Što je bilo trenutno stanje u odnosu udela ova dva browsera među korisnicima interneta. Naravno slavlje nije potrajalo dugo...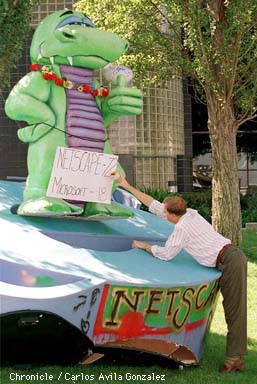 Microsoft je imao tri velike prednosti nad svojim rivalom. Prva, prihod od samog web browsera mu nije bio jedina zarada koju je firma ostvarivala, što je bio slučaj sa Netscape-om. Drugi, imao je monopol nad korisnicima računara (90% ih je koristilo Windows). I treći, u to vreme većina kupovina računara je zapravo bila prva kupovina računara na kojima je naravno bio Windows, i velika većina novih korisnika nije čak ni znala za Netscape. Ovo je naravno dovelo do velikog pada Netscape-a, i konačne dominacije IE, koja je trajala od 2002-2006. godine. Za to vreme rađali su se novi browseri sa pretenzijama da osvoje tron.
Poslednjih par godina borba procenat udela IE među korisnicima je znatno opao. Sa nekih 96% koliko je bilo početkom ove decenije, sada je spao ispod 50% prema istraživanjima više marketinških agencija.
Mozilla Firefox koja je hrabro grabila ka vrhu je nedavno dobila još jednog konkurenta, pored finske Opere koja joj je bila verni pratilac već godinama. Naime, još jedna velika IT kompanija Google je odlučila da se priključi ovoj borbi. Njen izdanak Google Chrome je u poslednjih dve godine napravio ogroman uspeh na ovom planu i trenutno je browser sa najvećom stopom rasta ljudi koji ga koriste.
Posle svega nameće se pitanje šta je zapravo presudno u ovoj 15 godina dugoj bitci, i šta je to što ljude tera da se odluče za ovaj ili onaj browser?
Ko će na kraju izaći kao pobednik iz ove trke i šta će dobiti zauzvrat?
Jedno je sigurno...rat se nastavlja...